30 May 2023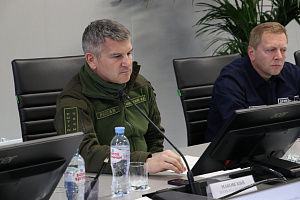 During a working meeting held today at Belgorodenergo's Grid Control Centre, Governor of the Belgorod Region Vyacheslav Gladkov and General Director of Rosseti Centre, PJSC and Rosseti Centre and Volga region, PJSC Igor Makovskiy assessed the operational situation in the region.
Igor Makovskiy informed Governor about the restoration of power supply to consumers in the Shebekinsky urban district, which was disrupted as a result of fire exposure. The parties also discussed topical issues of safety of the energy company's personnel during work and protection of power grid facilities in conditions of a high level of terrorist threat.
"Among the priority tasks that we discussed is ensuring the security and safety of personnel and power grid facilities, where power engineers work in the most difficult conditions. We made specific decisions on how to protect our people as much as possible, what measures to take for this - we chose a strategy, we are working," stressed Igor Makovskiy, General Director of Rosseti Centre and Rosseti Centre and Volga region.
"The reason for the meeting is alarming, I would like to meet in completely different circumstances. But such is the reality, in which our primary task is to ensure maximum reliability of power supply to the residents of the Belgorod region. This can only be done together, in close cooperation between the Government of the region and Rosseti Centre, PJSC," stressed Vyacheslav Gladkov, Governor of the Belgorod Region.