31 January 2023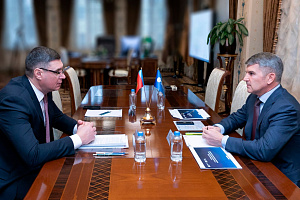 Governor of the Vladimir Region Alexander Avdeev and General Director of Rosseti Centre, PJSC - the managing organization of Rosseti Centre and Volga region, PJSC Igor Makovskiy discussed the functioning and development of the power grid complex of the region at the site of the Main Analytical Centre of the Companies.
The main topics of the meeting were the implementation of the Program for Improving the Reliability of Power Supply in the Vladimir Region for 2022-2024, developed jointly with the Government and the heads of municipalities, as well as improving the quality of interaction with consumers in the region.
The head of the energy companies said that the Vladimirenergo branch is implementing large-scale measures to clear and expand routes along overhead power lines, as well as to replace uninsulated wire with self-supporting insulated one.
"We made a number of important decisions following the analysis of technological disruptions that occurred in 2022. The Vladimirenergo branch will purchase additional sources of backup power supply and will continue to implement all targeted programs to ensure reliable power supply to consumers in the region. Also, in the near future, together with the Main Directorate of the Ministry of Emergency Situations for the Vladimir Region, an information interaction project will be launched. This will allow us to move to a qualitatively new level of receiving and processing consumer messages," emphasized Igor Makovskiy.
"We will never be completely insured against weather surprises, nevertheless, everything must be done to depend on them as little as possible, so there is a lot of work ahead. I gave a number of instructions on the development of the electric grid complex of the region and, for my part, I am ready to assist the power engineers in the implementation of this task," stated Alexander Avdeev.