20 September 2022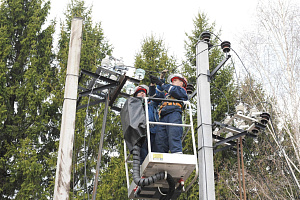 Employees of Rosseti Centre and Rosseti Centre and Volga region are carrying out operational work to restore power supply, disrupted due to the passage of a powerful southern cyclone.
Starting from the evening of 18 September, a special operation mode and a high alert operation mode were introduced in 14 branches of the Companies in connection with the forecast for a wind increase of up to 23 m/s. In some areas, the storm was accompanied by heavy rain and tornado phenomena.
The power engineers were provided in advance with all the necessary forces and means to eliminate technological violations. Operational interaction with forces of the Ministry of Emergency Situations, the leadership of the regions and municipalities was organized.
At present, the power supply of most consumers has been restored, but since, according to the weather forecast, adverse weather events will continue, all the forces and means of the power engineers will remain mobilized for the urgent performance of the necessary repair and restoration work.
"We are constantly ready for prompt response to the most difficult situations. The fulfillment of our main task - ensuring reliable power supply - directly depends on this. Despite the bad weather, in any, even the most difficult conditions, we will mobilize all the necessary forces to restore uninterrupted power supply to all facilities, to the last consumer, as soon as possible," stressed Igor Makovskiy, General Director of the energy companies.