19 September 2022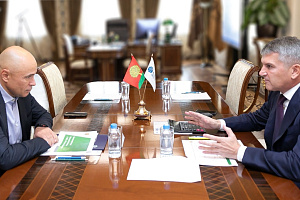 Igor Artamonov, Governor of the Lipetsk Region, and Igor Makovskiy, General Director of Rosseti Centre, PJSC - the managing organization of Rosseti Centre and Volga region, PJSC, discussed preparations for the autumn-winter period and identification of non-metered electricity consumption by legal entities at the site of the Main Analytical Centre of the Companies.
Igor Artamonov stressed that the process of preventing theft of electricity requires active joint action and must be made as transparent as possible.
"An open discussion of the situation with the theft of energy resources will, first of all, help protect the interests of conscientious consumers, as well as create conditions for business development," Igor Artamonov emphasized.
Continuing the meeting, the head of the energy companies told the head of the region that the Lipetskenergo branch was fulfilling the repair program plans and priority investment projects ahead of schedule, including the preparation of the energy complex for the season of maximum loads, the fulfillment of contractual obligations for grid connection and reduction of its terms within the investment standard.
"We certainly fulfill our main tasks to ensure the trouble-free operation of the power grid complex, and we also carry out a full range of measures to prevent an increase in electricity losses. We are currently implementing a project to install more than 40,000 new metering devices in the Lipetsk region. This will prevent underestimation of electricity and provide consumers with the full functionality of an intelligent metering system," stressed Igor Makovskiy.