13 September 2022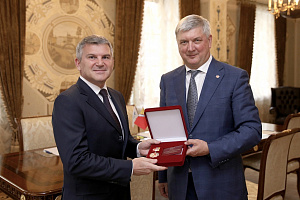 In the main analytical centre of Rosseti Centre, PJSC and Rosseti Centre and Volga region, PJSC in Moscow, General Director of the Companies Igor Makovskiy told Governor of the Voronezh Region Alexander Gusev about the preparation of the branch for the passage of the 2022-2023 autumn-winter period. To date, 76% of the planned 115 activities have been completed. The branch is working ahead of the established plan and will approach the heating season with the status "Fully ready".
"High-quality and timely implementation of all Voronezhenergo's preparatory measures for the winter is the key to successfully passing the upcoming maximum load. These measures contribute to improving the reliability of power supply in the region, reducing losses in grids, decreasing the number of violations and the time for their elimination," Igor Makovskiy emphasized.
One of the topics of the working meeting of the leaders was the improvement of Petrovskaya Embankment and Revolution Avenue in the capital of the region, and also discussed the project to create the Interregional Grid Control Centre.
Expressing gratitude for the constructive interaction and high professionalism, Alexander Gusev presented Igor Makovskiy with the Badge of Honour from the Government of the Voronezh Region "Gratitude from the Land of Voronezh".
"It is very important for us that the Voronezh power engineers carry out preparations for the heating season with high quality and on time. The comfort of more than two million residents of the region, the stable operation of enterprises and socially significant facilities depend on the readiness of equipment and personnel to promptly respond to emergency situations that the upcoming winter is preparing for us," Alexander Gusev stressed.