30 June 2023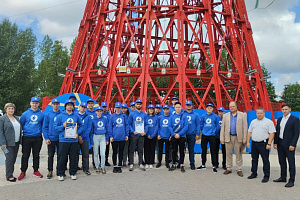 On 30 June, a new season of student energy teams of Rosseti Centre, PJSC and Rosseti Centre and Volga region, PJSC began. Solemn assemblies were held in 20 branches of the companies, where commanders of 40 student teams received work permits. This summer, 529 students of higher and secondary educational institutions will receive practical skills at the Companies' energy facilities.
During July-August, under the guidance of experienced mentors, the guys will learn a lot of new things, and most importantly, take an important step in their professional development, move from theory to practice. As in previous years, for the entire period of work of the student teams, the power engineers planned useful leisure activities and an extensive cultural program for the students.
Based on the results of the summer working season, the best teams will be determined as part of the competitive selection, which will take part in the All-Russian Gathering of Energy Teams of PJSC Rosseti.
"The work of student teams is a good and useful tradition. For many guys, this is the first work experience. Here they learn teamwork, develop leadership qualities, see the real result of their activities, and become more responsible. For the energy companies, this is a real forge of personnel. Since the beginning of the year, 1,212 young specialists have joined the ranks of our company, some of whom have passed the student teams and remember that time with warmth and gratitude," stressed Igor Makovskiy, General Director of Rosseti Centre and Rosseti Centre and Volga region.