29 June 2023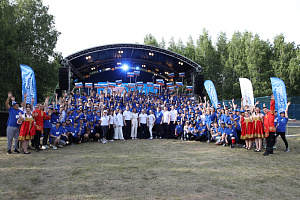 General Director of the companies Igor Makovskiy opened the solemn ceremony of the event.
He noted that young specialists are characterized by such qualities as constant self-development, the desire to conquer new heights and focus on results. Therefore, the creation of all the necessary conditions for attracting and retaining young people in the profession is one of the strategic goals of the management.
During the three days of the forum, the young power engineers from 20 branches of the Companies tried their hand at sports, intellectual and creative sessions, and also competed in applying the skills of non-standard thinking and technical intuition.
As a reminder, 2023 has been declared the Year of the Young Specialist in the company. This was the impetus for a large-scale reboot of the work of the Youth Councils in all subdivisions. Young leaders today face ambitious tasks that they successfully cope with under the competent guidance of experienced mentors.
"In order to attract and support young professionals, our companies are implementing a whole range of measures and programs. We give young people a chance to create the energy of the future, to bring their ideas to life. Our first Gathering is a clear example of the fact that we made the right decision, our initiatives are working - on the site we see talented, bright, truly active young people, who are the future of our company, industry, and country. Keep it up! Dream, create, dare!" - said Igor Makovsky in his welcoming speech.