27 June 2023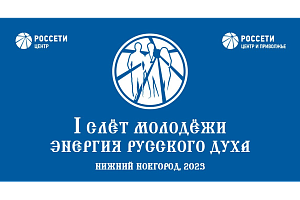 On 27 June 2023, the Forum of the youth activists of the Companies "Energy of the Russian Spirit" starts in the Nizhny Novgorod region.
As part of the event, young specialists from 20 branches of the energy companies will visit a landmark place for power engineers - the site of the Shukhov Tower on the Oka river.
A rich three-day program awaits the energy youth at the Forum: intellectual, sports-patriotic and creative sessions, competitions in applying skills of non-standard thinking and technical intuition and, of course, active recreation.
"It is no coincidence that we hold the first meeting of young specialists of the companies in the Nizhny Novgorod region. Its regional centre was declared the "Youth Capital of Russia", so there could be no doubt about the choice of the site for the first and largest youth rally in the history of our company. 2023 has been declared the Year of the Young Specialist in our company. A large-scale reboot of the work of the Youth Councils in all our branches was carried out. The Forum is proof that this initiative works! The young leaders have already shown themselves to be responsible, ambitious and professional workers who make every effort to develop our company, industry and the country as a whole," stressed Igor Makovskiy.