13 June 2023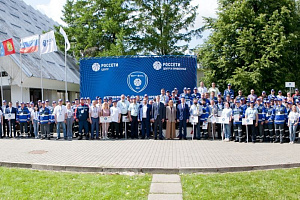 For 4 days, more than 100 participants in the Interbranch Finals of the competitions of Rosseti Centre and Rosseti Centre and Volga region from 20 regions of Russia fought for the title of the best in electricity metering and loss optimization.
The competitions consisted of several stages, at which the teams demonstrated their knowledge in the field of labour protection and safety, revealed facts of non-metered electricity consumption using a virtual simulator, assessed the suitability for work on special workbenches and replaced meters, installed a cabinet of a data collection and transmission device.
A separate stage of the professional competition was the work in real conditions - in settlements served by the Suzdalsky Distribution Zone. The participants had to establish facts of illegal energy consumption.
As a result of a stubborn struggle, Vladimirenergo won the first place, Belgorodenergo came second, and Smolenskenergo's power engineers took the third place.
"The teams demonstrated a high professional level, exchanged the necessary experience, best practices in the field of reducing electricity losses. Congratulations to the winners! I am sure that at the All-Russian competition of professional skills for employees of the service sales unit of branches of PJSC Rosseti, which is scheduled for September, the teams of our energy companies will show worthy results," stressed Igor Makovskiy, General Director of Rosseti Centre, PJSC and Rosseti Centre and Volga region, PJSC.