19 May 2023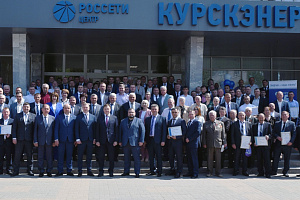 The branch of Rosseti Centre, PJSC - Kurskenergo is one of the largest enterprises in the Kursk region, dates back to 1958, when the purposeful development of the Kursk energy sector began. The branch employs more than 2,000 employees, who ensure reliable operation of the power grid complex in 28 districts of the region, where more than 1 million people live.
Governor of the Kursk Region Roman Starovoit took part in the celebrations dedicated to the 65th anniversary of the branch, presenting regional awards to 7 power engineers.
Vladimir Usikov, an electrician of the first responding mobile crew of the Glushkovsky Distribution Zone, who received a shrapnel wound while performing his duties, was awarded the medal "For Merit to the Kursk Region" of the 1st degree. For courage in the performance of professional duty and selfless work, three employees of border Distribution Zones were awarded commemorative watches.
On behalf of Igor Makovskiy, General Director of Rosseti Centre, PJSC - the managing organization of Rosseti Centre and Volga region, PJSC, Yury Marakin, Deputy General Director for Security, the supervisor of the branch, presented corporate awards to 25 employees of Kurskenergo.
"Today, performing strategically important, and sometimes even combat missions, Kursk power engineers make a worthy contribution to the historical chronicle of the enterprise. I am sure that the branch will continue to be the most important component of the socio-economic development of the Kursk region. I would like to thank each employee for their dedication to the industry, selfless work and high professionalism," emphasized the head of the energy company, Igor Makovskiy, in his congratulations to the Kursk power engineers.