26 April 2023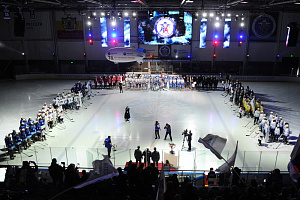 On 26 April, the solemn closing ceremony of the IX hockey tournament of Rosseti Centre and Rosseti Centre and Volga region, dedicated to the 78th anniversary of the Victory in the Great Patriotic War, took place.
According to the results of the competition, Sergey Ryabov from Lipetskenergo became the best forward, Dmitry Tarusov from Tulenergo became the best scorer, Makar Sukharev from Kirovenergo became the best defender, and Egor Gorshkov from Ryazanenergo became the best goalkeeper. Sergey Rakhmanov from the Tverenergo branch was recognized as the most valuable player of the tournament.
The second and third places in the hockey tournament were taken by teams from the Tulenergo and Tverenergo branches.
Ryazanenergo's hockey team won gold.
The captain of the Ryazan team received the cup of the tournament from the hands of Deputy General Director of Rosseti Centre Artem Aleshin and Chairman of the primary trade union organization of Rosseti Centre Oleg Makarov.
Artem Aleshin, on behalf of the head of the Companies, Igor Makovskiy, congratulated all those gathered on a bright sports holiday: "I thank all the participants of the hockey teams of the energy companies for participating in the tournament! You make your life brighter, more energetic, more meaningful and set a wonderful example for us - the fans! Congratulations to the winners on the well-deserved first place! You gave us a beautiful game. I am sure that the tradition of hockey tournaments of Rosseti Centre and Rosseti Centre and Volga region will continue".